The Hungry Caterpillar is a timeless classic which lends itself perfectly to a child's birthday party. We think, with all these little tips and tricks preparing all the party food doesn't have to be time-consuming. With a combination of shop-bought and homemade can result in an easier (and frankly less stressful) birthday party for you and your family.
Super sandwiches.
Simply make your sandwiches as normal, using any filling the little ones like. You can use egg, cheese, tuna, ham, or anything you think they'll fancy – be sure to give some vegetarian options too. Then cut into circles with cutters (you could use any circular cutter). Then arrange into a large caterpillar shape, add a head using a red ball and the 'feelers' by sticking on some pipe cleaners onto the ball.
Caterpillar cookies.
To create these cookies simply make some cookie dough, or use a shop-bought dough – then roll it out and cut into number one shapes using a cookie-cutter and bake as normal. When cooled grab some green and red icing and pipe the tiny caterpillar onto the cookie and allow to dry -They're super effective. The guests will enjoy chomping on them.
The Very Hungry Caterpillar ate through…
Place a large platter full of some of the foods from the story on the table, you could even add a little hole in each food and pretend The Hungry Caterpillar has already been nibbling away at the foods. You can even add that extra special touch to the table by adding cute labels to the food.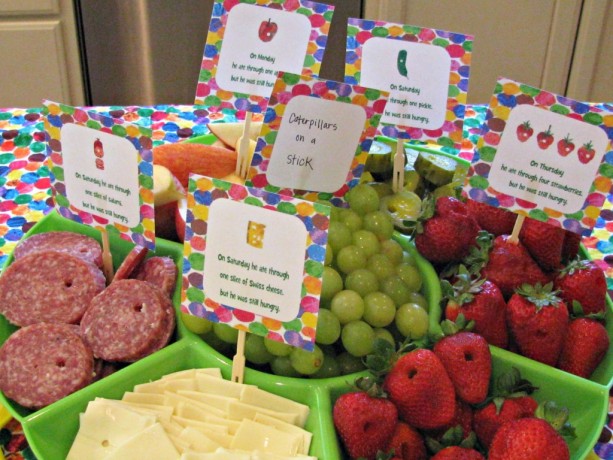 Caterpillar fruit kebabs.
These grape and strawberry caterpillars are just perfect for this theme, and it's always good to have some healthy snacks on the party table. Just take some kebab skewers and add some grapes for the body of the caterpillar and some strawberries for the head, then attach some little eyes. We have added detailed instructions on how to make them here https://musthavemom.com/caterpillar-fruit-kabobs-party-food-idea/ just be careful with grapes with the little ones.
Cool as a cucumber.
This super healthy party snack is another straightforward idea. Simply slice up some cucumber and tomatoes, and arrange them in a caterpillar shape. They are great finger foods for tiny hands.
Caterpillar cupcakes.
These cupcakes look so cute. Just bake some cupcakes, or take the easy route and buy ready made ones (we won't tell) then top with piped buttercream and add a little caterpillar made of rolled fondant icing and red smarties!
Jolly jellies.
Jelly is a traditional party food so why not make it fit the theme by making these caterpillar jellies. Just take a clear plastic cup and add green jelly and wait for it to set then top with red jelly. Finally, attach a paper caterpillar face to a lolly stick add an antenna, then stick into the jelly.
Sweet caterpillars.
The party guests will adore these jelly sweets. Easily available from most supermarkets. Add a few around the food on the party table too.
On Saturday, he ate through an ice-cream cone.
These 'ice-creams' are so easy to make. Bake some cake mix into flat ice-cream cones when cooled add buttercream 'ice-cream' and a cherry on top.
Butterfly nectar.
Now for the drinks. Keep the little guests hydrated by offering healthy, drinks such as 'Bug Juice' and 'Butterfly Nectar' to continue with the Very Hungry Caterpillar theme – then attach some labels.
If a Very Hungry Caterpillar theme isn't quite what you're looking for, take a peak at all our other first birthday party themes.