A unicorn party is a perfect theme for your little one's magical day!
When the party's over it's a lovely idea to give all of your guests a thoughtful little gift as a reminder of the special day and to thank them for coming. We've got a few quick and easy ideas for awesome unicorn-themed party favours.
Looking for some more inspiration for your unicorn birthday party? We have a whole bunch of ideas for you.
Unicorn bags.
These super sweet party bags will look lovely filled with goodies of your choice. You can add bubbles, small unicorn toys, sweets or anything you fancy. To make the bags you will need: a plain white gift-bag, pink, white and gold paper; gold glitter, glue gun, artificial flowers, rhinestones and a coloured marker.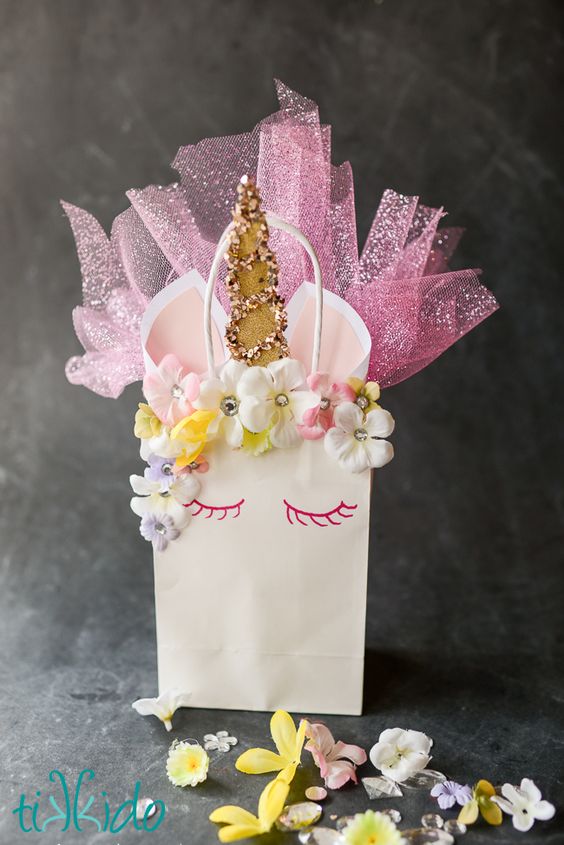 Friendship bracelets.
These bracelets are cute little unicorn keepsakes for your guests. Make them yourself or, if you have them, get your older children to assemble them. This idea could also work well as a unicorn party activity.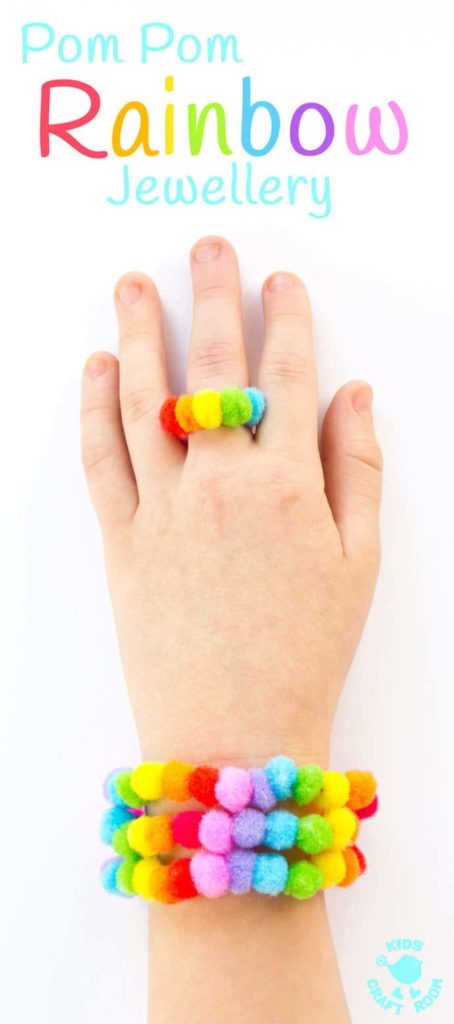 Unicorn colouring pages.
There's a wide range of colouring pages available online. For a really quick and easy favour just download and print out a selection of pictures, then put them into a party bag along with some chunky wax crayons.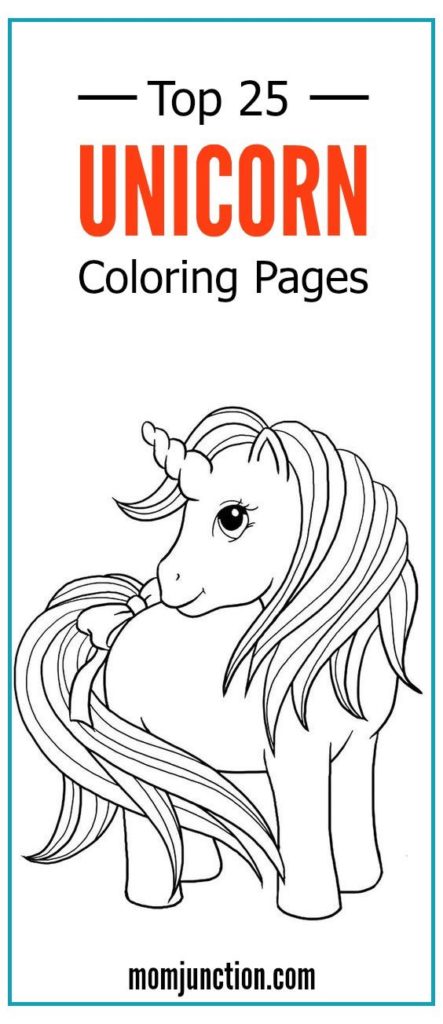 Frosted unicorn cookies.
To create these unicorn shaped cookies just use a shop-bought dough or make your own if you have the time – then roll it out and cut using a unicorn shaped cookie-cutter. Then bake as normal. When cooled cover with pink or white icing and add sprinkles. When dry simply place in a gift bag and add some curled ribbon to decorate.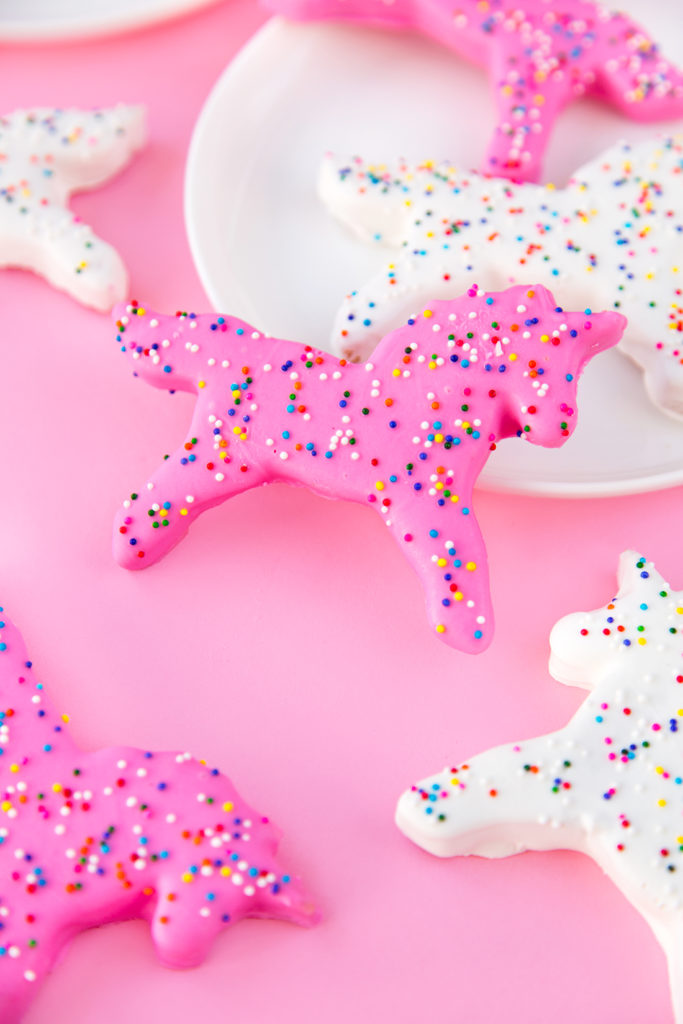 Cuddly toy favours.
We think these soft toy unicorns are so sweet and a lovely gift to give as a favour – and one that children can cherish forever. A little personalised thank you tag adds that extra special touch.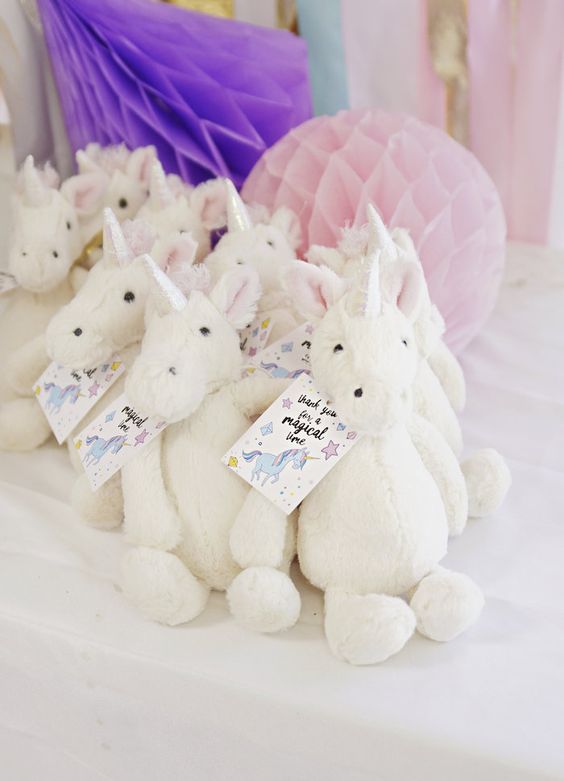 Unicorn sweet cups.
These plain paper cups are decorated with unicorn eyelashes and red cheeks then filled with tasty treats – yummy.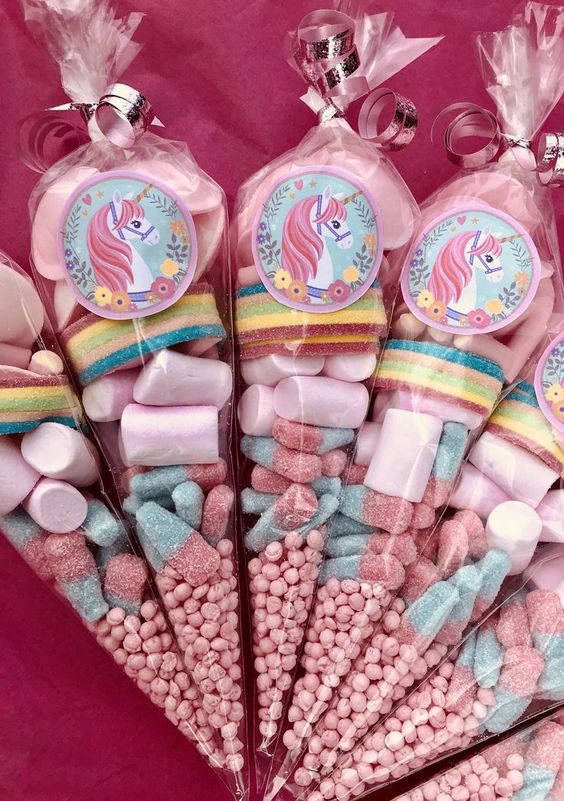 Cake favour.
It's quite a traditional idea to add some birthday cake to the party favour. But why not add some rainbow cake pops instead? It's a great alternative. Just don't forget to add some extra for the mums and dads! We actually have a whole post dedicated to enchanting unicorn birthday cakes here.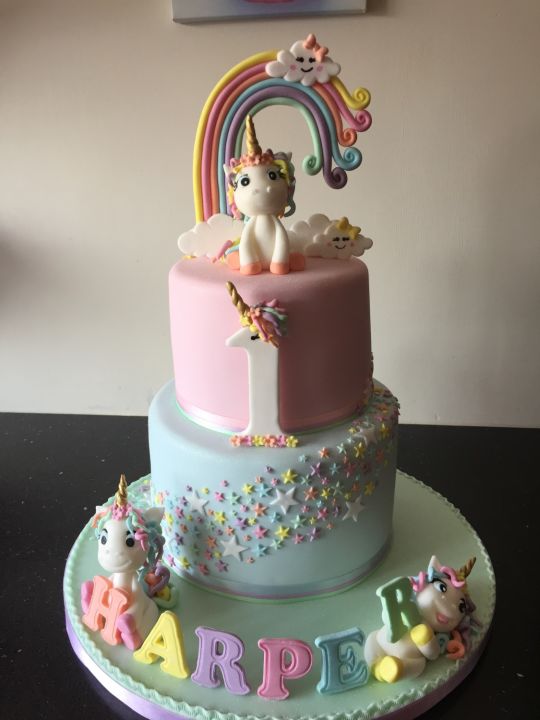 Discover more first birthday party ideas here.