The Very Hungry Caterpillar by Eric Carle is a well-loved children's story, so you've got to agree it's a wonderful idea for a themed first birthday party. There are a whole array of caterpillar birthday cake ideas out there – here are just a few to tempt you.
Number one cake.
This classic number-one shaped birthday creation is one the novice cake maker could try themselves. Just trim a sponge cake into a number one shape, cover with white icing, and add a colourful caterpillar munching through the cake. Then personalise it with colour-coordinated 'happy birthday' letters and add your child's name.
On Monday…
Another marvellous masterpiece, this time featuring some of the foods from the story: one piece of chocolate cake, one ice-cream cone, one pickle, one slice of Swiss cheese, one slice of salami, one lollipop, one piece of cherry pie, one sausage, one cupcake, and one slice of watermelon.
Cute confection.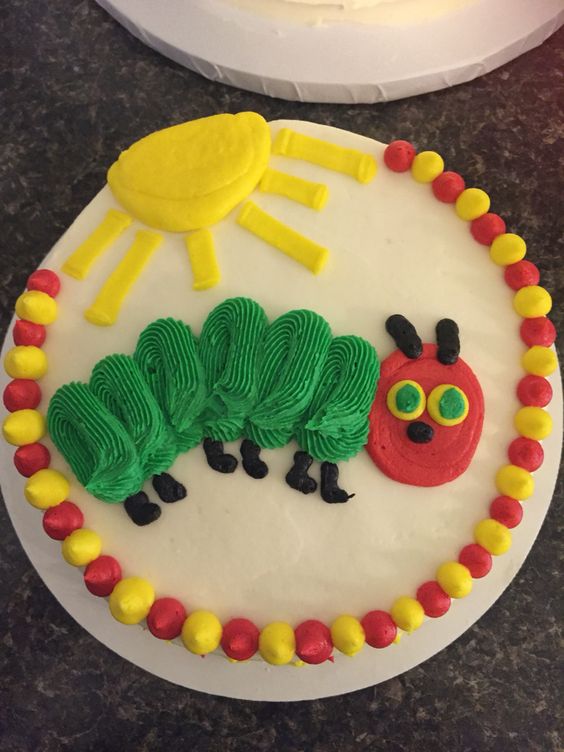 If you'd like to create your own confection for the special day then this lovely cake could be the one. It looks super simple but very effective.
Caterpillar cupcakes.
This confection is definitely one you could create yourself. With the head of the caterpillar made with a basic circular sponge cake covered in red butter icing and the body made with lots of cupcakes covered in green piped butter icing. Then just assemble into a caterpillar shape and add the facial features – we think its look fabulous.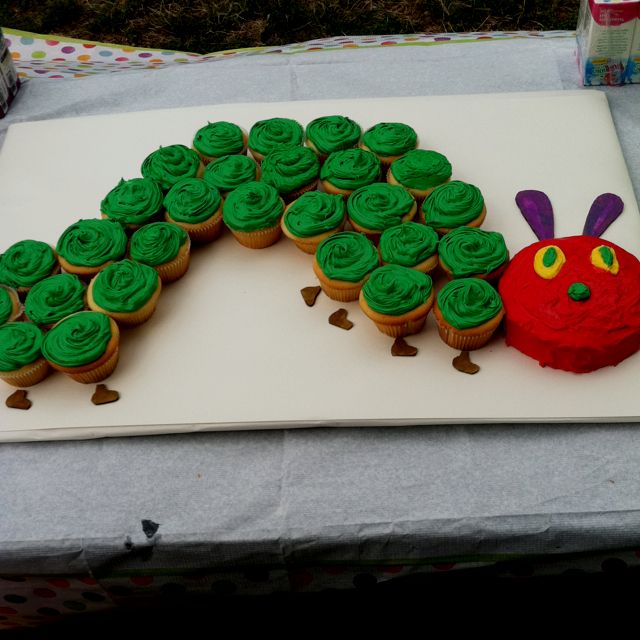 Rainbow cake.
This very hungry caterpillar inspired cake is another delightful creation. With rainbow sponge, tutti-frutti buttercream, topped with a cute caterpillar and yummy looking food from the story, made of fondant icing!
Professional perfection.
This superb creation might be one for the expert or the professional cake maker, but we think it's superb.
Hungry Caterpillar cake.
This gorgeous caterpillar birthday cake comes complete with a 'nice green leaf' – the children love to munch it all up.
Butterfly beauty.
This exquisite cake uses plain white fondant icing to cover the two-tier cake and then is hand painted, using gel colours, with images all the foods The Hungry Caterpillar munches through in the story. Then is finally topped with the most beautiful butterfly.
Caterpillar pops.
We all love a cake pop and they are a simple alternative to a traditional birthday cake. These ones are made to look like the Hungry Caterpillar! Make one red 'head' and as many green body parts as you'll need, make it long enough to give each guest a pop. Or you could have lots of mini cake-pop caterpillars. We think they are ace.
Furry caterpillar.
This super bake is very cute and the quests will love the little piped furry caterpillar, and large sun in the corner – just like the books' cover.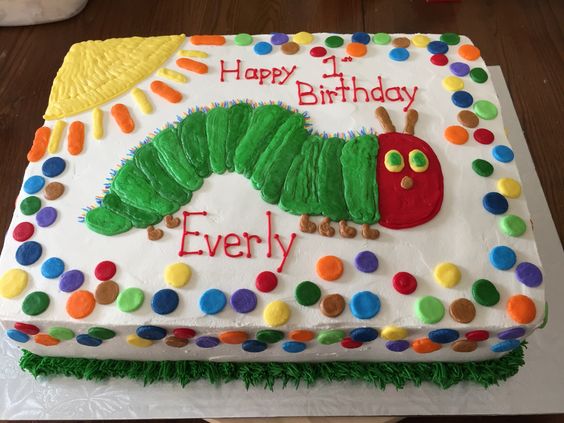 Not sure if the Very Hungry Caterpillar is the right party theme for you? Take a look at loads more 1st birthday party ideas over here.