A superhero theme is a brilliant and colourful first birthday party theme, especially if you're the sort of mummy and daddy who grew up geeking out over the orginal comic books.
Nowadays, Marvel and DC characters are adored by young kids and so this is a great idea for a party theme.
After the party's over it's a lovely thought to give all of your guests a little gift as a reminder of the special day and to thank them for coming. We've got a few quick and easy ideas for some superhero party favours.
Looking for more incredible inspiration? We have created a whole resource dedicated to our favourite heroes!
Hero Lollies.
These lollies are a really fun themed idea to give as a party favour. Just buy a selection of lollipops (the Chuppa-Chups ones are ideal). Add a tiny eye mask to the lolly and wrap in a paper cape and voila, there's your first favour.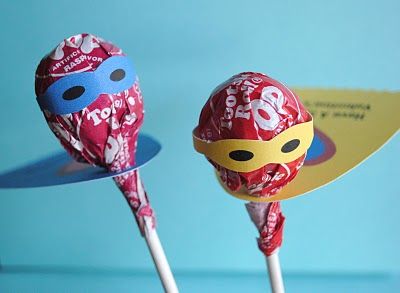 Products from Amazon.com
‹
›
Superbubbles.
Bubbles are always a big hit with the little ones, so why not try this really cool idea for a favour. Just take a selection of large bubble wands and add a felt superhero cape and some 'zap' 'bang' 'pow' stickers to the top – instant superhero favour.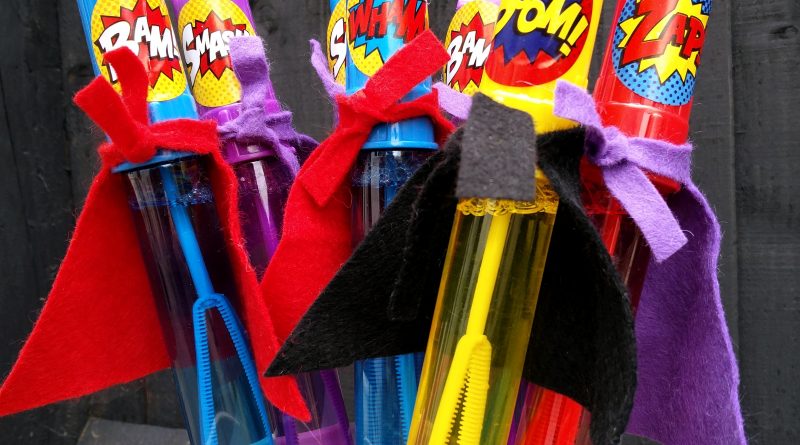 Cookie pops.
These super themed 'ZAP' cookie pops are a great favour idea; wrap in cellophane, add a personalised label and curly ribbon to decorate.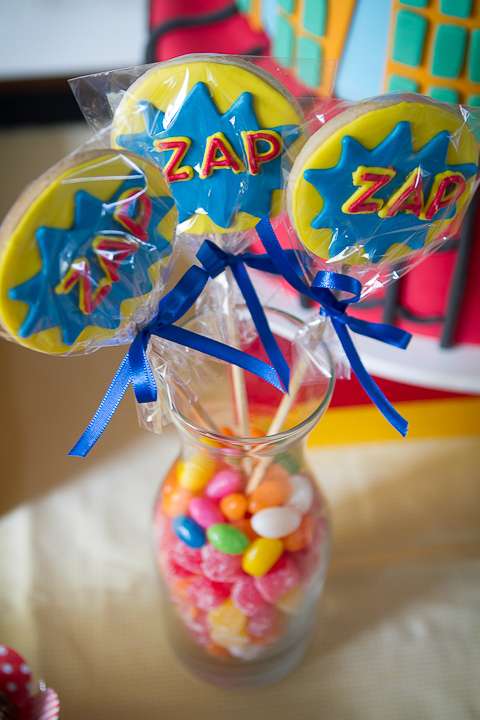 Bat-Torch.
Why not give your guests an extra special treat with these awesome Bat-torches. Stick the Bat-logo onto the glass of some small black and yellow torches and add a special thank you message. The bat logo will be displayed against a wall when you turn on the torchlight at night – cool.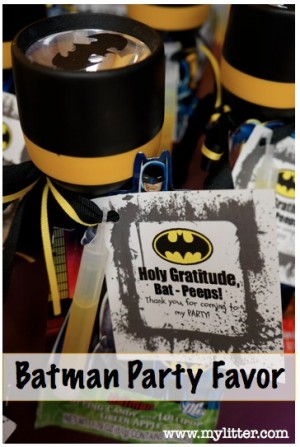 Felt masks.
These paper plate masks are a great addition to the party, as well as being great party favours. The guests will love wearing masks of their favourite characters and having something to take home with them, too.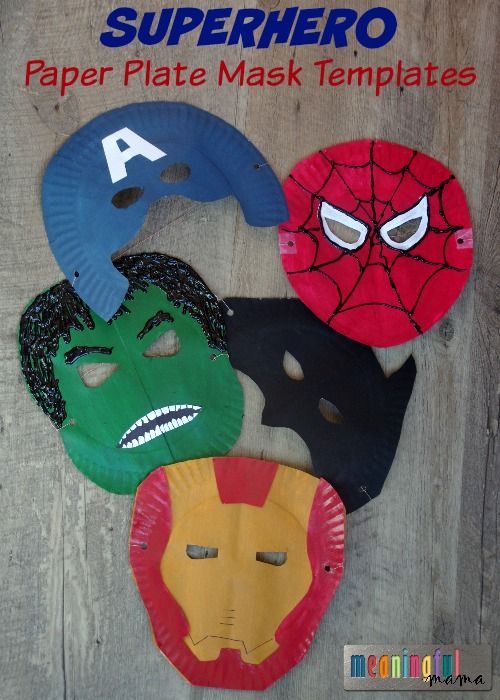 Super bags.
We simply adore these personalised boxes featuring these awesome superhero masks. You could make your own or purchase these pre-made ones and save yourself the hassle!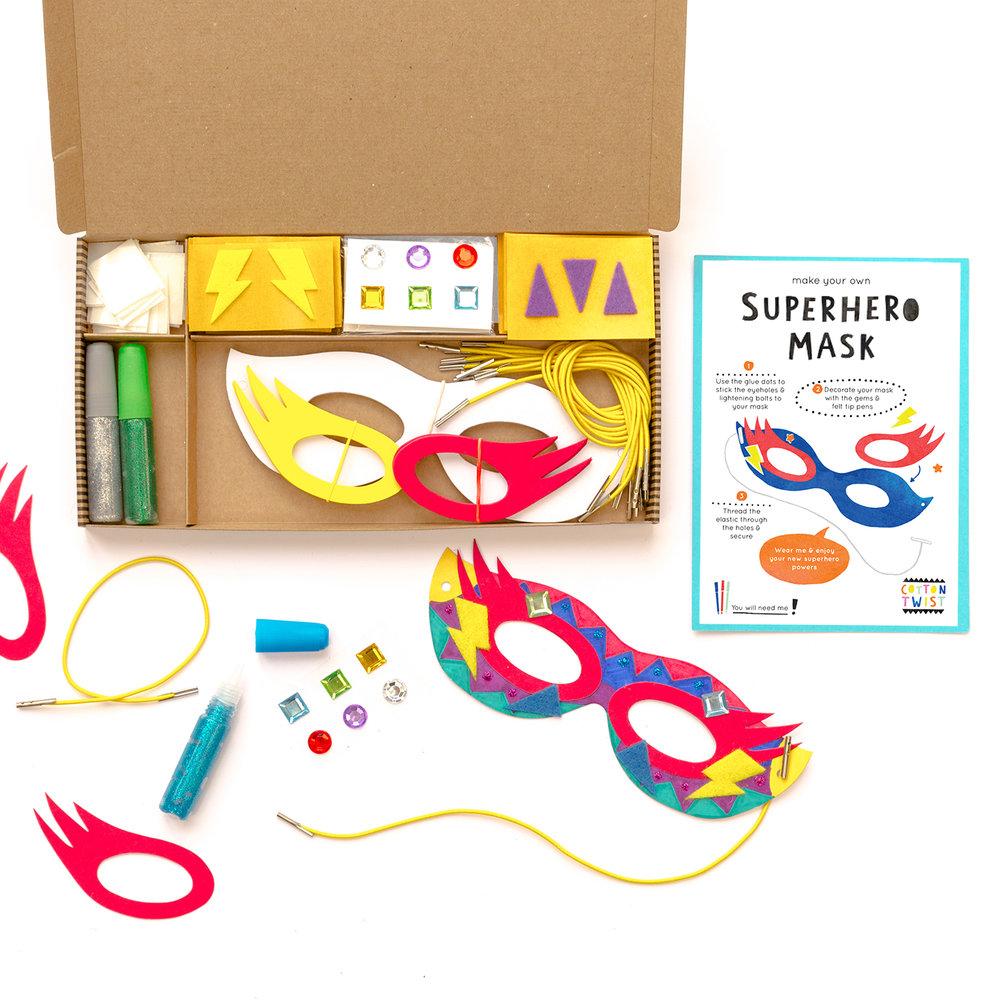 Logo bags.
These paper party bags are super easy to make. Just stick any superhero logo to a cheap paper bag and add bubbles, stickers, superhero toys, masks, sweeties or anything superhero themed.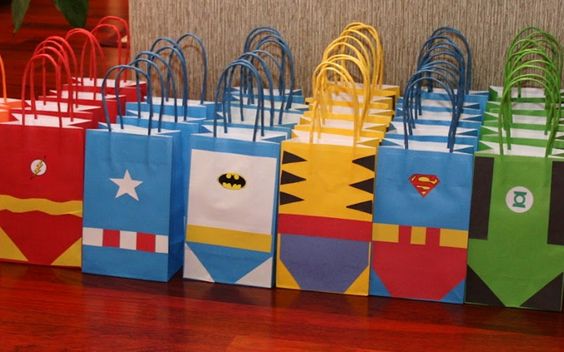 Superhero theme not quite what you're looking for? We have a bunch of cool ideas for your one-year-old's big day, here.