Peppa Pig and her quirky family are a popular hit amongst youngsters. The TV show brings a lot of laughter and fun to many toddlers, so it's a great choice for a first birthday party theme.
The really fun bit is festooning your party venue with Peppa-themed decorations. We've got some adorable ideas to adorn your home for their special birthday.
Looking for something other than a Peppa Pig party? See our whole list of first birthday party themes, here.
1. Welcome to the party.
Welcome your guests to the party with this life-size Peppa Pig cutout sign. You could add the child's name and age too.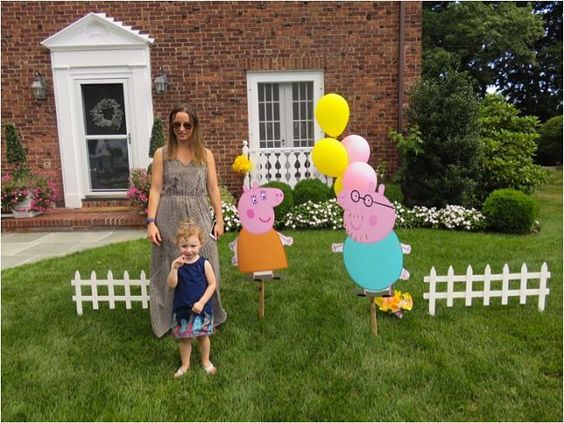 2. Peppa Pig noses.
These cute little piggy-snouts are so simple to make and your guests will love to wear them and be Peppa for the day. Simply cut out individual egg cartons and paint pink – you could even get your children to help make them!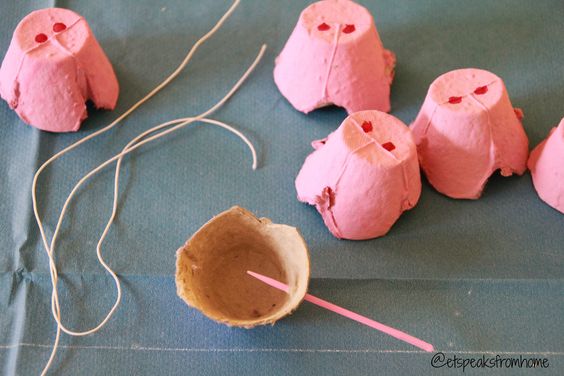 3. Peppa Pig Friends Paper Chains.
Paper chains are a quick and easy way to decorate your home. With these free printables and a bit of glue, they almost make themselves.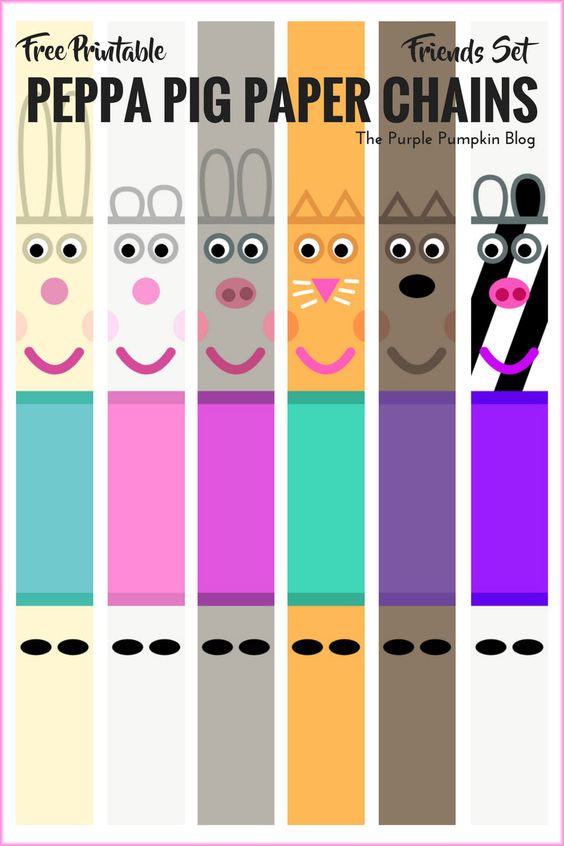 4. Peppa Pig Party Hats.
Take some pink stock card and fasten into a simple cone shape. Print off all the Peppa characters from the Internet and stick them onto cones, then attach an elastic strap so they don't fall off. Each of the hats could have a different character for the guests to choose their favourite.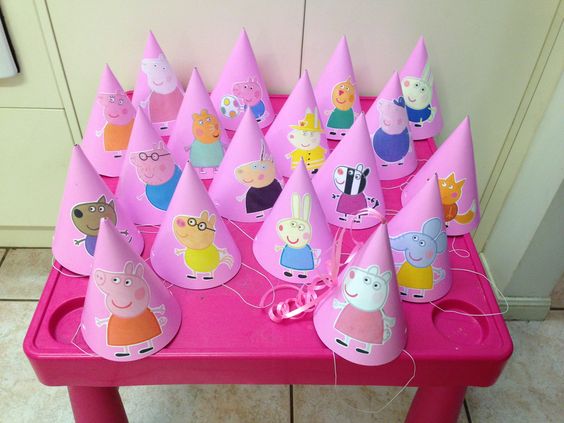 5. Personalised banners.
We think these little banners are adorable, they can be personalised with the child's name and age or just simply say 'Happy Birthday'.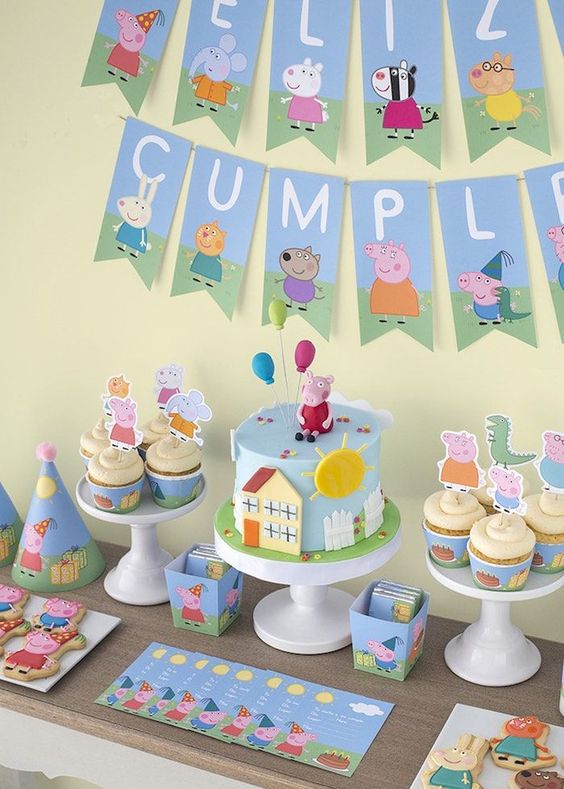 6. Balloons galore.
If you want to go the 'whole-hog', why not try at this fabulous balloon creation? We think the balloon Peppa Pig house, with trees, sunshine and balloon flowers are spectacular and will make a wonderful backdrop to the special day.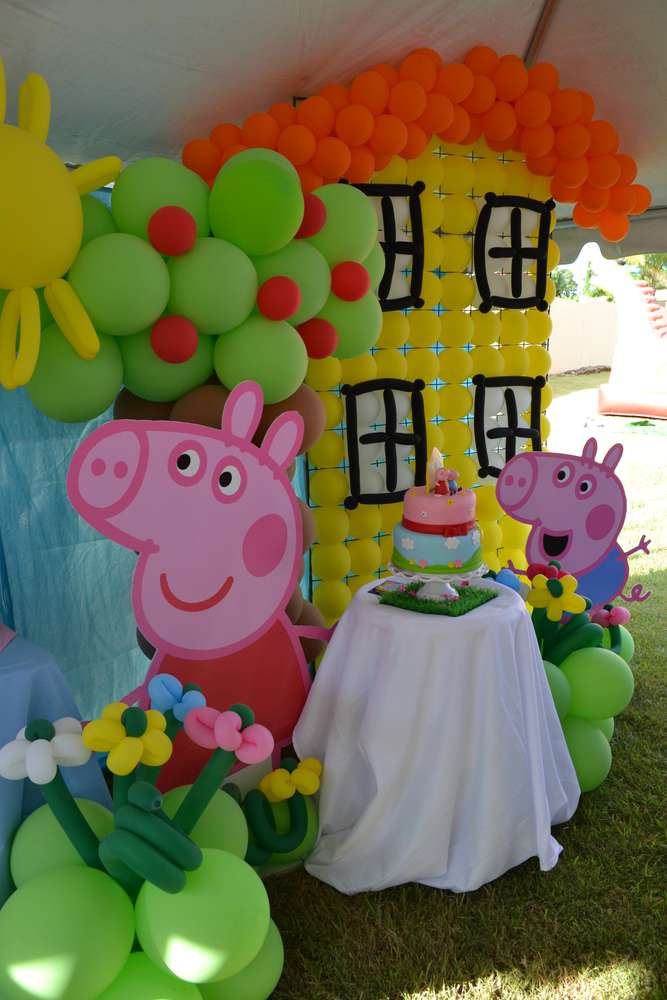 7. Piggy balloons.
These cute piggy balloons are so simple to make. Just blow up as many pink balloons as you need and stick on pink card ears and a snout, then draw on the eyes with a permanent marker – child's play. The little guests could even take them home at the end of the day as a souvenir.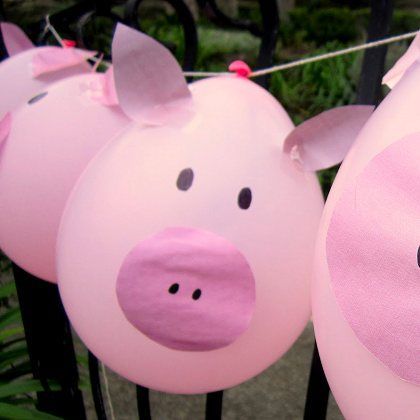 8. Peppa's house table cover.
Make a themed tablecloth by draping yellow crepe paper over a large table, then add a red crepe roof, windows and a brown door. An adorable decoration that everyone will love. We think a perfect stage for the delicious party nibbles.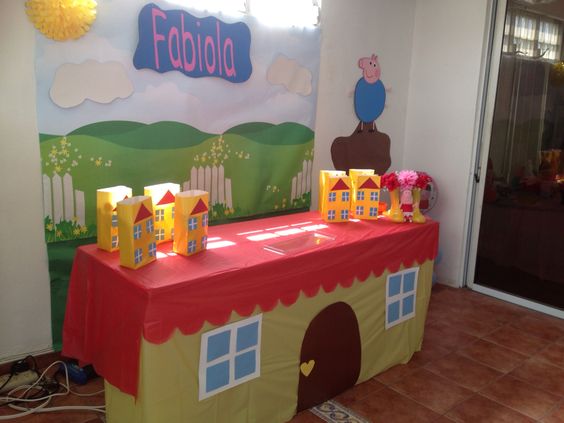 Searching for more Peppa Pig party ideas? We have a whole bunch of ideas here.