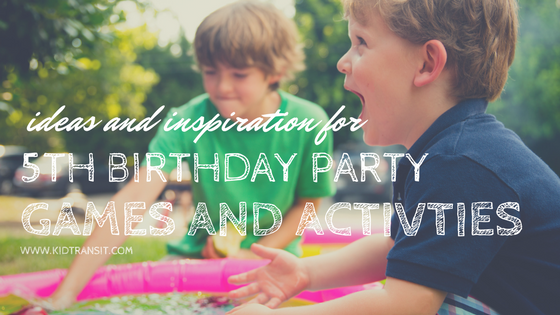 Entertaining 5-year-olds can be tricky, especially when it's for your child's birthday party. The pressure is on for you to host a memorable day, without it getting too out of hand. You don't want your little guests to get bored, but also you don't want them running wild in your house or the venue.  Luckily, we've got a great selection of fun activities that everyone can enjoy.
Keep it classic.
Traditional kids party games can be really entertaining.  Try out old favourites like Blind Man's Bluff, Musical Chairs and Musical Statues. Kids will be happy to dance around and be silly. In the meantime, these games require little preparation and resources. Get the adults involved too – they'll love reminiscing about their childhoods.
Go outdoors.
If you have a great garden space, get the kids running around and playing tag or it. Try different variations like Stuck in the Mud,  or invent your own special birthday version.
Additionally, all this energy burning will mean happy parents by the end of the day.
Get crafty.
If you have time to prep your party games, get creative and make your very own 'Pin the Tail' board. You could stick to the original donkey, or have some fun by using the birthday boy/girl's favourite animal or even a photo of them! Meanwhile, you could tie it in with the party theme. For example, pin the tail on the elephant or a crown on the princess.
Treasure hunt.
Easy to set up and really enjoyable, treasure and scavenger hunts are much-loved by kids of all ages. Either hide prizes around your house, garden or party venue or make a list of items that the children have to find to win a prize. You could be as creative as you like and make clues, or leave it to the children to discover the objects.
Pass the parcel.
Just before home time, you might want to get them settled. Sit them in a circle and have a game of 'Pass the Parcel'. Add little sweets or party favours into each layer so that every child goes home smiling. And, because they are all sat in a circle, they'll be easy to find when their parents come to take them home.
What about the other age groups?
If you have a mixture of ages on the guest list, consider having a range of activities to suit them.
For the little ones, set out an exclusive area so that they're not disturbed or get overwhelmed by the loud, sugar-infused 5-year-olds. Have a mixture of activities depending on their age, from colouring and messy play to age-appropriate toys and games.
Meanwhile, the older children might like to help you out and conduct some of the games. It will give them a sense of responsibility and stop them from getting bored.
Other fun activities.
As well as the main games, you may want to set up a quiet area or several alternative activities. For example, set up a colouring-in table, where children can have a time-out and relax if running around gets too much for them. In the meantime, you could also have a bubble area for kids young and old. Get them to try and catch the bubbles before they've hit the ground.
Be open to suggestions.
Five-year-olds are very inventive, so let them throw in a few ideas about the games they'd like to play. If they're not dangerous or inappropriate let them enjoy themselves. Often parents will plan so many fun activities and games, only for the group to invent their own crazy game.
Do you have any tips and tricks for kids' birthday parties? Let us know in the comments below or on Twitter and Facebook.