Is your one-year-old already fascinated by the rev of an engine? Or, perhaps it's more mummy and daddy who are the petrol heads? Either way, a car-themed first birthday party is something everyone can get on board with. It's super simple to pull off too and with a few subtle details, you can really make the day memorable.
If you're after even more first birthday party ideas, head over to our extensive list of themes for one-year-olds by clicking here.
Everything you need for the perfect car-themed 1st birthday party
Think bright colours and checkered race flags when it comes to doing up the venue. DIY your own bunting, make tyres out of cardboard and kitchen foil and use toy vehicles as table decorations. Just be sure that little hands don't get hold of anything with small parts.
See 11 more car-themed party decor ideas.
With a few simple hacks, you can transform an ordinary spread into a fast and furious feast. Use car-shaped cookie cutters to revamp finger sandwiches. Meanwhile, set up a 'fuel stop' for guests to grab drinks throughout the afternoon.
See 13 more car-themed food and drink ideas.
Products from Amazon.com
‹
›
Choose a winning cake that looks wonderful and tastes delicious too. We love the idea of turning the number 'one' into a road with its own cars.
See 7 more car-themed cake ideas.
Products from Amazon.com
‹
›
Venue ideas
For a first birthday party, it's wise to stay close to home, or at a relative's house that has all the facilities that you may need. A back garden would be great for giving you that much-needed extra space, but if you just have your living room to transform into a race track that's okay too.
Costumes
A car-themed costume party may be a little tricky to dress up for. But, what you could do is ask everyone to wear red, amber or green to reflect traffic lights. This will come in handy when grouping together people for games and activities. Another cute idea is to make traffic cone party hats.
Party games and activities
If you've got the room, a classic car race would be a great way to get the youngsters excited. Get them to run from one end of the garden to the other and give out prizes for the fastest 'car'. In the meantime, toddlers will enjoy a twist on traditional games, such as pin the tyre on the sportscar and an oil can toss.
Give friends and family something to remember the day by. Older children may appreciate a few sweets and a toy vehicle to play with, whilst babies will get more use out of a cuddly or learning book.
See 7 more car-themed party favour ideas.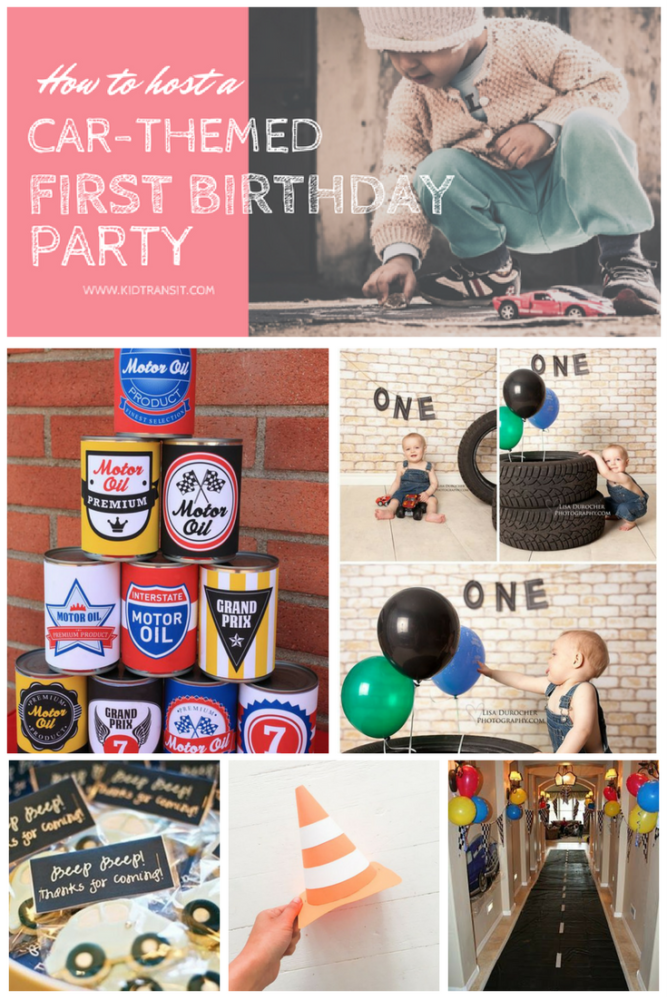 If you do plan a car-themed first birthday party, we'd love to see your photos. Tag us in them on Facebook, Twitter and Instagram.