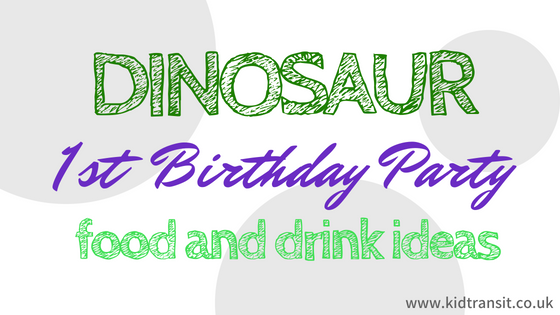 Here's the exciting bit. Preparing all the food for the little ones can be time-consuming, but with all these little tips and tricks, it doesn't have to be. A combination of shop-bought and homemade can result in an easier (and frankly less stressful) dinosaur party for you and your family.
Check out all our first birthday party theme ideas for more inspiration.
1. Watermelon dinosaur head.
This is a fabulous idea for today's health-conscious parents. You could even use a melon baller to scoop out the flesh and use the balls as dinosaur eggs.
2. Fossil print cookies.
This is such a fantastic idea! Simply make some cookie dough, or use a shop-bought dough, then roll it out and cut into circles. Grab some small toy dinosaurs to make fossilised-footprints in the dough and bake as normal. They're super effective and your children will love helping too.
3. Brachiosaurus bone snacks.
These will have the children feeling like palaeontologists at party time. Straightforward to make. Just by buying some pizza dough, cut it into strips, then place small bone-shaped chunks on the ends. Sprinkle with cocoa powder and sugar for a sweet taste, or you could add grated cheese before cooking for a savoury snack – what a unique treat!
4. Stegosaurus sandwiches.
All you need to make these Jurassic snacks is dinosaur-shaped cutters. Make your sandwiches as normal, using any filling your hungry mouths will like, then cut out into fun shapes.
5. Dinosaur cookies
Alternatively, use your cutters with some cookie dough, bake, then decorate with green icing and sprinkles.
6. Chocolate dinosaur-egg nests.
If you've never had a go at making your own chocolate crispy cakes, here's a step-by-step guide to help you get started. Basically, all you need to do is add some chocolate eggs for dino decoration.
7. Candy dinosaurs.
Let's face it, a party is not a party without a few jelly sweets. There are plenty of Jurassic-style jellied sweets out there. Find some online and at most supermarkets.
8. Fruity Stegosaurus.
For a nice, healthy option, cut slices of watermelon, pineapple and strawberries and build a dinosaur with the fruit shapes.
9. Turkey dinosaurs.
You can buy these old favourites from most supermarkets – a terrific addition to you prehistoric party.
10. Drinkosaurus.
Now for the dinosaur drinks. We always like to keep the little guests hydrated by offering a healthy option, such as juice or water, but you can still put them in funky cups or bottles to continue with the Triassic theme.