For little ones, we'd always keep the party activities simple, as babies tend to have a short attention span. We've got lots of fun butterfly party theme activities and games here for you to try.
This post may contain affiliate links. As an Amazon Associate, I earn from qualifying purchases.
Butterfly pinatas.
Pinatas are becoming a staple of the party scene and these cute butterfly ones fit the theme perfectly. You can find a butterfly pinata kit online at Birthday in a Box.
Butterfly balloon burst.
A fun idea for the butterfly party. Paint a large butterfly backdrop and attach small, inflated balloons onto the butterfly. The children can use bean bags to throw against the balloons to try to pop them. The one with the most popped balloons wins. Be sure to have some extra balloons on-hand to replace the popped ones.
Butterfly balance.
This game is easy to prepare by making lots of colourful cardboard butterflies. When the guests are ready to play they just have to balance the butterfly on their noses for as long as they can without dropping them. It's sure to make everyone giggle.
Butterfly nets.
Before the party blow up about 35 small balloons and scatter them all over the garden or party venue. Give each child a butterfly net and they have to run around the garden and try to catch as many as they can in the nets.
Butterfly treasure hunt.
Before the party hide some small objects all over the house and/or garden. Then the guests put on butterfly wings and go on a hunt to find them all. You can use toy butterflies, coloured plastic rocks, flowers or similar butterfly-themed objects to hide. Be sure to hide large items for young children under three to prevent a choking hazard. Let the butterflies turn in their items for prizes when all the items have been found.
Paper masks.
To create these paper masks you will need coloured card, scissors, glue, a pencil, glitter and some lolly sticks. Using the butterfly mask template to make it and detailed instructions at Meraki Mother.
Butterfly bean bag throw.
First, you will need some bean bags. Then paint a large butterfly onto a large card or a wooden board and cut four large holes in it. The aim of the game is for the children to throw the bean bags through the holes. The child with the most bean bags through the holes is the winner.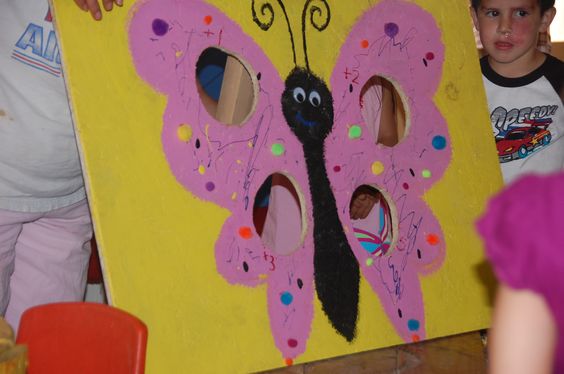 Butterfly ring toss.
A basic ring-toss game. The children just have to throw some standards hoops over the pretty, cardboard, garden flowers – right on-theme and great fun too.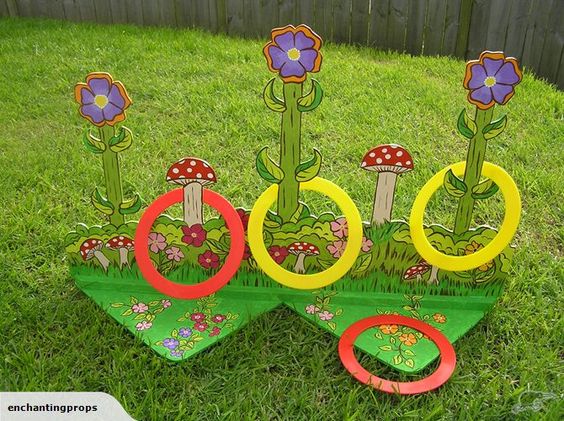 If you don't think a butterfly theme is for you, take a look at our full page of first birthday party ideas.