A butterfly themed party is perfect for a little girl's birthday and we've put together some great party food and drink ideas for you to try. By using a combination of shop-bought and homemade party food the organising can be less time consuming and stressful for you.
This post may contain affiliate links. As an Amazon Associate, I earn from qualifying purchases.
Butterfly sandwiches.
These butterfly sandwiches are super simple to create. Just make your favorite sandwiches using any filling you think the little guest will like then cut them into a butterfly shape using a butterfly cookie cutter. If you want to add extra detail cut cucumber, carrot, or celery into small antennae and add them to the sandwiches.
Butterfly cookies.
To create these sweet cookies just make some cookie dough, or use a shop-bought dough if you're short on time – then roll it out and cut into a butterfly shape using a cookie-cutter. Then bake as normal. When cooled cover with some pink icing and allow to dry. Then add butterfly features such as spots, antenna, and body.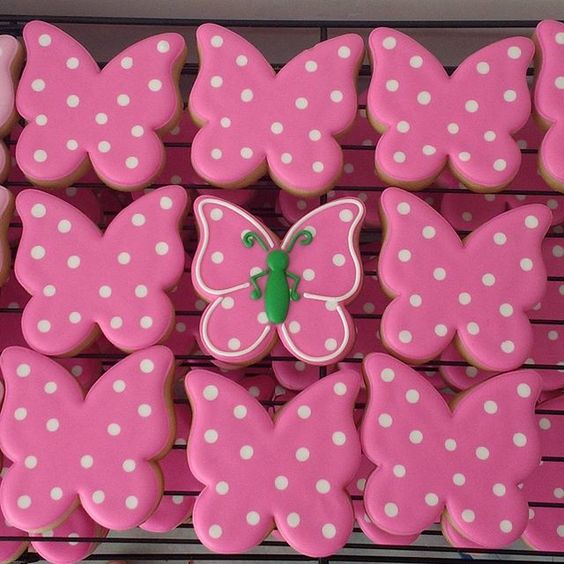 Chocolate pops.
If you're feeling creative these bite-sized chocolate butterfly pops are perfect for the party and great for little hands too. With a DIY tutorial on how to make them over on Hostess with the Mostess.
Fruity-flies.
These grape and orange butterflies are just perfect for this theme, and it's always good to have some healthy snacks on the party table. Just cut the orange into segments to resemble butterfly wings and attach to some grapes to create the body. – just remember to be careful with grapes with the little ones.
Flutter-dogs.
These fabulous hotdog rolls are easy to make using refrigerated crescent rolls, hot dogs, ketchup, and mustard. Find full instructions on how to make them at Taste of Home.
Butterfly buns.
You simply can't have a butterfly themed birthday party without some traditional butterfly buns. Make some basic victoria sponge cake mix and place into some bun cases and bake. When cooled cut off the top of the bun and slice in half to make two butterfly wings. Fill the gap with buttercream and add the butterfly 'wings' et voila butterfly buns.
Pizza butterflies.
This butterfly pizza is a great addition to the party table, a simple on-theme, idea for a savory snack. Take a premade pizza (or make your own if you like) and cut into butterfly-shaped wings. Add a piece of celery for the body, carrot eyes, and green bean antenna.
Butterfly pretzels.
These celery and pretzels butterflies are really easy to create. Just cut celery sticks into small lengths and fill with soft cheese, such as Philadelphia and push the pretzels into each one for wings. Then add slivers of dried fruit such as raisins or apricots for the antennae.
Butterfly popcorn.
Such a simple and effective idea. To create this super-snack you will need popcorn, a wooden peg, some small plastic bags, googly eyes and some pipe cleaners. Half fill the bag with popcorn and add the peg to the centre of the bag to resemble the body. Then add the googly eyes and pipe cleaner antenna.
Butterfly nectar.
Now for the drinks. Keep the little guests hydrated by offering a variety of healthy drinks. Then give them a butterfly twist by adding cute little butterflies paper straws.
Still in need of party inspiration? Take a look at all of our first birthday party themes.